---
Harish-Chandra Research Institute
---
Doctoral Program in Physics
The Ph.D. program consists of course work and projects for the first three semesters, followed by research work leading to a Ph.D. degree.
---
Curriculum and detailed course content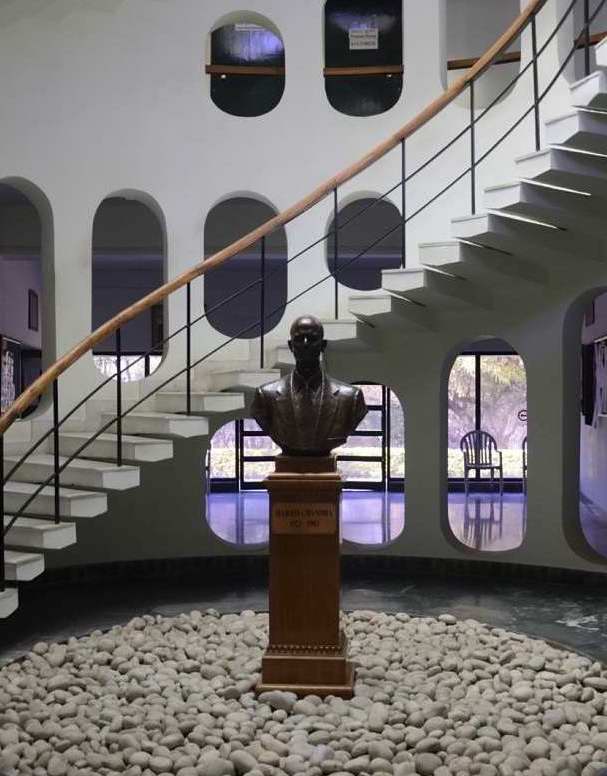 Degree granted by Homi Bhabha National Institute
---
Course Structure
The instructional part of the doctoral program consists of two semesters of pedagogical lectures followed by two projects in the third semester.
Elective I : Choose one from — Fluid Mechanics, General Relativity, Non-linear Dynamics, Quantum Information and Computation I, Quantum Mechanics III .
Elective II and III : Choose two from — Accretion Process in Astrophysics, Advanced Topics in General Relativity, Advanced Topics in Quantum Field Theory, Astronomical Data Analysis, Astrophysics, Astrophysical Fluid Dynamics, Collider Physics, Computational Astrophysics, Computational Many Body Theory I, Computational Many Body Theory II, Computational Materials Science, Condensed Matter Physics II, Correlated Electron Systems, Cosmology, Dark Matter and Particle Astrophysics, Disorder in Condensed Matter, Flavour Physics and CP Violation, Grand Unified Theories, Introduction to Electronic Structure, Matter Out of Equilibrium, Mesoscopic Physics, Neutrino Physics, Particle Physics I, Particle Physics II, Quantum Field Theory II, Quantum Information and Computation II, Quantum Many Body Theory, Quantum Optics, Radiative Transfer Phenomena in Astrophysics, Relativistic Astrophysics, Soft Matter, Spectroscopic Methods, String Theory I, String Theory II, Supersymmetry, Topological Quantum Matter, Ultra Cold Atoms.
Elective III can also be done in semester III.
---
Semester I
Quantum Field Theory I
Non-relativistic quantum field theory: quantum mechanics of many particle systems; second quantisation; Schrodinger equation as a classical field equation and its quantisation; inclusion of inter-particle interactions in the first and second quantised formalism
Irreducible representations of the Lorentz group, connection to quantum fields
Symmetries and conservation laws: examples in non-relativistic and relativistic field theories; translation, rotation, Lorentz boost/Galilean transformation and internal symmetry transformations; associated conserved charges
Free Klein-Gordon equation: classical action and its quantisation; spectrum; Feynman rules for computing n-point Green functions of elementary and composite operators.
Interacting Klein-Gordon field: Feynman rules for computing Green functions; physical mass of the particle from the analysis of two point Green functions; S-matrix and its computation from n-point Green functions; relating S-matrix to cross-section.
Quantisation of free Dirac fields: spectrum; Feynman rules
Quantisation of free electromagnetic field: role of gauge invariance; gauge fixing; physical state condition; spectrum; Feynman rules
Quantum electrodynamics: coupling Dirac field to electromagnetic field; gauge invariance; quantisation; Feynman rules for computing Green functions; Spectrum and S-matrix from the Green functions.
Mathematical Methods II
Integral transforms, Fourier transforms, inversion and convolution, Laplace transforms
Advanced topics in ODE, Partial differential equations: classification of second order PDEs, Laplace and Poisson equations, applications to electrostatics, Heat equation, Wave equation
Group theory, definitions and examples of groups. Homomorphism, isomorphism and automorphism, Permutation groups
Group representation: reducibility, equivalence, Schur's lemma. Lie groups and Lie algebras, SU(2) and SU(3). Representations of simple Lie algebras, SO(n), Lorentz group. Symmetries in physical systems, Young Tableau.
Project I
In this semester, every student is supposed to do a project on a theoretical physics topic under the supervision of HRI faculty. Main fields in theoretical physics represented at HRI at the moment are, Astrophysics, Condensed Matter Physics, Particle Physics Phenomenology, Quantum Information and Computation, and String Theory.
---
Elective I
Choose any one of the following topics, Fluid Dynamics, General Theory of Relativity, Techniques in Nonlinear Dynamics, Quantum Information and Computation I and Quantum Mechanics III.
Fluid Mechanics
Ideal Fluids: Euler equation, hydrostatics, Bernoulli equation, conservation laws, incompressible fluids, waves, irrotational flows, inviscid fluids and vorticity
Viscous Fluids: Viscosity, Navier-Stokes equation, Reynolds number, laminar flow, exact solution to the eq. of motion.
Turbulence: Stability of flows, instabilities, quasi-periodic flows, Strange attractors, turbulent flows, jets, free shear layers, wakes, boundary layers
Thermal Conduction in fluids: eq. of heat transfer, conduction in incompressible fluid, law of heat transfer, convection, convective instability in static fluid
Compressible flows
Relativistic Fluid dynamics: eq. of motion, energy-momentum tensor, eq. for flow with viscosity and thermal conduction.
General Theory of Relativity
Review of Lorentz transformations and special theory of relativity.
Tensors and their transformation laws; Christoffel symbol and Riemann tensor; geodesics; parallel transport along open lines and closed curves; general properties of the Riemann tensor.
Equivalence principle and its applications: gravity as a curvature of space-time; geodesics as trajectories under the influence of gravitational field; generalisation to massless particles; gravitational red-shift; motion of a charged particle in curved space-time in the presence of an electric field; Maxwells equation in curved space-time.
Einsteins equation, Lagrangian formulation, Einstein-Hilbert action.
Schwarzschild solution: construction of the metric and its symmetries; motion of a particle in the Schwarzschild metric;  Schwarzschild black hole; white holes and Kruskal extension of the Schwarzschild solution: construction of the metric and its symmetries; Motion of a particle in the Schwarzschild metric; precession of the perihelion; bending of light; horizon, its properties and significance.
Precession of the perihelion; bending of light; radar echo delay.
Initial value problem; extrinsic curvature; Gauss-Codacci equations;
Linearised theory, gravitational waves, field far from a source, energy in gravitational waves, quadrupole formula
Elementary cosmology: principles of homogeneity and isotropy; Friedman-Robertson-Walker  metric; open, closed and flat universes; Friedman equation and stress tensor conservation, equation of state, big bang hypothesis and its successes.
Nonlinear Dynamics
Long time behaviour of the solutions of a system of ordinary nonlinear differential equations, fixed points and their classification according to stability.
Periodic orbit for conservative systems, periodic orbits for dissipative systems ( limit cycles ) and their stability, Bifurcations and centre manifolds.
Different kinds of perturbation theory for calculating periodic orbits, Renormalisation group aided perturbation theory, Poincare Bendixon theorem, chaos and strange attractors.
Maps, fixed points, cycles and stability, bifurcations , period doubling, intermittency and quasi periodicity, universal behavior at the onset of chaos , renormalization group and scaling behaviour.
Partial differential equations , patterns, Galerkin truncations and reduction to dynamical systems.
Quantum Information and Computation I
Quantum formalism: states, evolution, measurements.
Multipartite quantum systems: description and manipulation of bipartite systems and beyond.
Entanglement: quantification and detection in bipartite and multipartite systems.
Quantum communication: no-cloning theorem, quantum teleportation, quantum dense coding, multipartite communication protocols.
Quantum cryptography: essential classical cryptography, BB84, B92, Ekert, and secret sharing protocols.
Quantum computation: quantum algorithms, universal gates.
Interface of quantum information with other sciences.
Experimental realisations.
Quantum Mechanics III
Atomic physics: One electron atoms - spin-orbit interaction, fine structure, Lamb shift, Zeeman effect, Stark effect.
Two electron atoms: spin wave functions, approximate handling of electron-electron repulsion. Coupling of angular momenta, multiplet structure, gyromagnetic effects. Hyperfine and nuclear quadrupole interactions.
Many electron atoms: central field approximation, Thomas-Fermi and Hartree-Fock methods.
Molecular physics: Born-Oppenheimer approximation, molecular structure, rotation and vibration of diatomic molecules, hydrogen molecular ion, vibrational-rotational coupling, effect of vibration and rotation on molecular spectra. Electronic structure- molecular orbital and valence bond theories.
Atoms and light: transition rates, dipole approximation, Einstein coefficients, radiative damping, optical absorption, ac Stark effect.
Cold atoms: Doppler cooling, magneto-optical trap, ion traps, dipole force, evaporative cooling, optical lattice.
Collective effects: Feshbach tuning of interactions, Bose condensation of alkali atoms, BCS-BEC crossover, the unitary Fermi gas. Imaging cold atoms.
Computing with atoms: qubits and their properties, entanglement, quantum logic gates, decoherence and error correction.
---
Semester III
Project III
In this semester students are supposed to do two projects, each carrying 6 grade points.
---